Evrsoft First Page 2006
| | |
| --- | --- |
| | Create Dazzling Websites With Absolute Control. |

Overview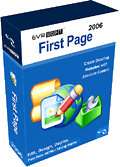 3,000,000+ downloads since the first release, Evrsoft brings you First Page 2006, the highly anticipated HTML editing software. Evrsoft First Page 2006 gives you unsurpassed freedom to create and edit web documents with absolute code control.
The latest version includes hundreds of new features and bug fixes. First Page 2006 now includes full support for HTML, XHTML, PHP, ASP, Cold Fusion, Javascript, CSS, SSI and Perl.
FirstPage 2006 is designed for professional web development. Create, Edit and deploy websites with absolute ease and precision. The integrated tools empower web developers to develop standards-based web documents, quickly and easily.
Download it for FREE!

Tag Insight with SmartHistory™

CSS Insight with SmartHistory™

CSS Class Support & Auto Detection

Advanced Syntax Highlighting

Tag Document Selection Tool

Dual Preview Engine

Online Webmaster Tools

Tag Property Sheet Inspector with SmartHistory™

Tag Auto Completion

Design View Engine, Powered by Microsoft®

Anti-Intrusive Real-Time Visual Source Rendering Engine™

Dual Edit System

One Click Html Reference Guides

Asset Management

Extensive Web Language Support

Tidy HTML Power Tools (updated)

Document Checking Tools

iScripts™

Page color themes

Popupmaker Deluxe

Image Mapper

CSS Style Sheet Designer

Scrollbar Designer

Powerful Server Side Includes Support

Sitetree/ Link Checking Tool

Analyze Document/Page Estimation Tool

Extendable Toolbars and Interface

Interface Designed for All

File Management Tools

Image Thumbnails

Rollover Images

Internet explorer preview integration

Netscape® Mozilla preview integration

Powerful, Enhanced IDE Interface

Powerful FTP client

Extended Find & Replace In Files

Photo Album Gallery Generator
Related
If you have a website, join our affiliate program and make 35% per sale! Click here for details.